Nadja Dornik fell in love with music at the age of four. At first, Nadja began to play the piano, but as very quickly she was delighted harp, and in 2016, graduated at the Musical High School «Mokranjac» in Belgrade two classes at the same time – class of harp and class of piano. All that in just two years as a student of the generation. The same year she was unanimously admitted to the Conservatoire National Supérieur de Musique et de Danse de Paris, where she finished two bachelor's and master's degrees, harp in the class of Isabelle Moretti and piano in the class of Hortense Cartier-Bresson for the undergraduate studies and in the class of Frank Braley for postgraduate studies. This year she starts the Master's degree studies of Chamber Music with her trio (piano, violin, cello) at the same conservatory in the class of Claire Désert and Michaël Hentz.
Winner of more than thirty international competitions, Nadja performs very young with the greatest orchestras: the Geneva Chamber Orchestra, the «Stanislav Binički» Orchestra «Pro classic» (Serbia), and the Serbian Radio/Television Philharmonic Orchestra.
The contests bring her to meet the public all over the world. From New York to Moscow, London and Geneva, from Carnegie Hall to the World Harp Congress in Hong Kong, she collaborates with renowned artists: flutist Sébastien Jacot, conductor Patrick Gallois, composer Daniele Garella and Gautier Capuçon. Cellist with whom she shared the stage last summer, for the «Un été en France» tour.
She is regularly asked to play in many music festivals with the both instruments. Nadja is an exceptional artist who continues to make an impression with her passion and talent.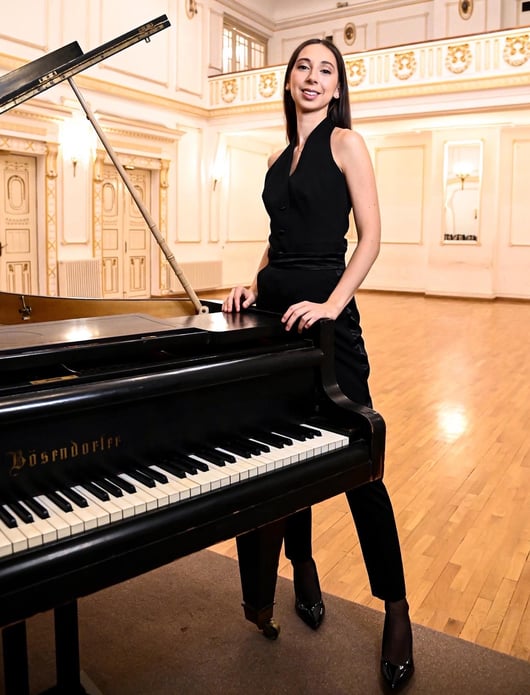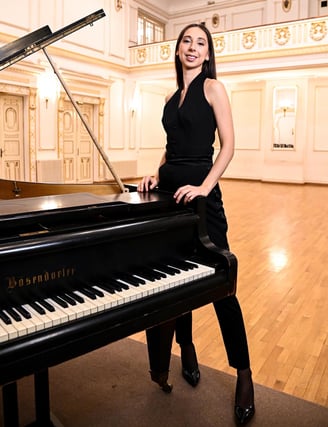 « Grace and virtuosity
Another promising talent is Serbian pianist and harpist Nadja Dornik, who combines two instruments studied in a double curriculum at the Paris Conservatory. After having accompanied Bellini on the harp, here she is on the piano for the stunning final Alla breve of Rachmaninov's Piano Concerto No 3, of which Raphaël Zeitoun apologized for having reduced the lush orchestration to a dozen instruments.
The wires of light bulbs lit between the trees while silhouettes stand out from the windows and terraces of neighboring buildings to listen to streams of music scattered in the coming night.
We are in Paris. It could be anywhere, or nowhere. The audience holds its breath for a Fantaisie-Impromptu, op. 66, by Chopin, played with grace and virtuosity. »
K.Szymanowski: Variations Op.3
"Nadja Dornik is an incredible talent, with high musicality, great technic and a wonderful presence on stage!"
(Silke Aicchorn)
Her sound is pure, her touch is delicate and precise, and she is gifted with a truly rare musical intelligence.
(Daniele Garella)
"I view her as one of the major young stars of the harp worldwide."
(Sirin Pancaroğlu)